Every morning we await you with a delicious home-cooked breakfast to get your day off to a good start. Our commitment to quality and freshness is reflected in every dish we lovingly prepare for our guests.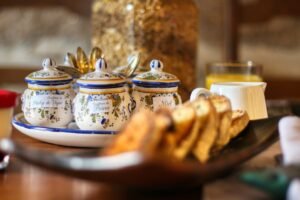 A full breakfast is included in the price of all our rooms, ensuring a memorable start to the day. We understand that everyone has their own preferences and needs, so please let us know by 4pm the day before if you have any special requirements or dietary restrictions. Our aim is to meet your expectations so that you can enjoy this special moment to the full.
In the morning, join us in our open kitchen, where a communal table awaits you to share this delicious moment. We serve on request between 8.30am and 10am, so you can start your day at your own pace. If you have an early morning requirement, we'll be happy to accommodate.
Breakfast has an exquisite selection to suit all tastes. Start by choosing your favourite hot drink from our selection of coffees, flavoured teas or smooth chocolate.
Delight in our homemade fresh fruit juice, a refreshing fusion of the best seasonal flavours. Let yourself be seduced by the irresistible smell of a warm croissant, crispy on the outside and soft on the inside, for a touch of French sweetness.
But that's not all! Our homemade delicacy changes daily, offering a sweet surprise to brighten up your palate.
Our eggs are prepared according to your wishes, whether scrambled, poached, fried or as an omelette. Our mission is to satisfy your preferences to make your meal even more personal and satisfying.
To accompany this delicious meal, you can enjoy our bread prepared in Kerbeleg, a unique recipe whose flavour and texture are a true delight. Don't forget to try our home-made jams, lovingly prepared with the finest seasonal fruit, and honey from our neighbouring beekeeper, for a sweet, natural touch.
We hope this gourmet breakfast will delight your senses and help make your stay an unforgettable experience. Our cuisine, imbued with conviviality and authenticity, is a true tribute to the pleasure of eating well. We look forward to welcoming you soon and sharing this delicious moment together.
---
---