Home-made recipes to wake up your taste buds in the morning
Smell that? That's our breakfast waking you up.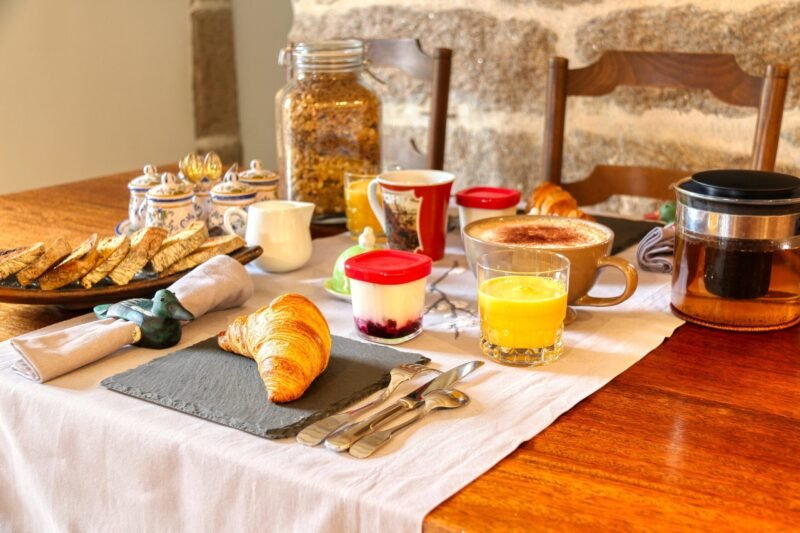 If you have any special requirements or restrictions for your breakfast, just let us know the day before by 4pm.

Breakfast is served at the communal table in our open kitchen between 8.30 and 10.00 and consists of:
A hot drink (coffee, tea or chocolate), a fresh home-made fruit juice, a hot croissant, a home-made delicacy, eggs cooked to your liking, our home-made bread and jams of the moment, honey from our neighbouring beekeeper.
Our exclusive recipe for bread served crispy every morning
Bees & Cicadas
Our recipe is a subtle blend of honey from the Riec-sur-Bélon beekeeper and herbs from Provence.
The fine sweetness of honey as a base for your lightly toasted dirty butter sandwiches.
Puff pastries and crisps
Butter croissants
Despite its Viennese origins and its historical reference to the Turkish flag, the Viennese pastry has become over the years the inseparable first bite of breakfast 'à-la-française'.
Its plump shape is deceptive because its dough is crisp and light.
Good creamy milk and homemade jam
Yoghurt with Jam and Fruit
For a touch of freshness, among the various 'homemade sweets', our fresh yoghurts are garnished with fruit of the moment or jam.
A mixture of cereals is available to complement the freshness we have prepared for you.
Home-made jams
The fruits of our orchard
When the elements have been kind, when the fruit has ripened well on the tree, its harvest allows us to keep the best of the garden for our table. We add little sugar to our jams so that they keep well and preserve the authenticity of the natural taste of the fruit. We have just planted ten new varieties of trees in 2021 including cherry, plum, pear, apple, peach and fig trees for new recipes to come.
Our neighbour's hives
Honey from Riec-sur-Bélon
Patrick Guyader has been a beekeeper for over thirty years in Riec-sur-Bélon. You will find his honey on your breakfast table in Kerbeleg and if you feel like it you can extend this pleasure by stopping by to buy 1 kg jars of Spring Honey, Flower Honey, Chestnut Honey...
Many flavours for a good time of relaxation
Teas & Infusions
Depending on the availability of the moment, you will find teas and infusions available all day long.
Organic white tea with lemon, ginger and lemon infusion, organic lemongrass and verbena infusion, liquorice and mint infusion, ginger and lemon infusion, classic chai, green tea and cinnamon, liquorice and mint (Amarti website)