From the end of the 15th century to the present day
Kerbeleg is a family house that has been in the family since 1962, when Fabien's grandfather bought it. In 2020 we bought the house from our family to make it a bed and breakfast. We knew then that Kerbeleg was a farm built in 1635 (17th century).
The meeting
It was when we met Jean-Paul Piriou, who is passionate about history, that we discovered that our property was in fact an old 15th century manor house, transformed into a farm in the 17th century. It was certain architectural elements, characteristic of the 15th century, that indicated to us that Kerbeleg was originally a noble house, a manor house. Further research revealed the name Kerbelegou in the 1426 reformation (census of the nobility): the estate was part of the Lescoet seigneury ("Alain Lescoet is the owner of Kerbaelegou and houses a tenant: Guillemot Audren").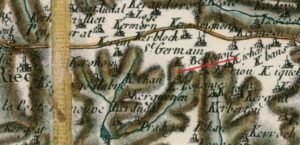 Destructions
The old building may have fallen into ruin as a result of the mad war between 1480 and 1532 which led to the Edict of Union sealing the annexation of the Duchy of Brittany by the Kingdom of France. The war destroyed many of the monuments of the time in Quimperlé…so it may have affected the building of Kerbeleg. Another explanation for the destruction of the manor in the 16th century goes back to the 1590s when Brittany was confronted with the wars of the league which caused colossal devastation as half the population was wiped out. It was the signing of the Edict of Nantes by Henry IV in 1598 that put an end to this war.
17th century
Based on the ruins of what would have been called Ker an belgou (mentioned in the 1536 reformation: "Jacob Coêtquiriou is Lord of Lescoèt and Ker an Belgou"), Kerbélégou (Kerbeleg) would have been rebuilt using the walls and other architectural elements that were still standing.
For more details on these architectural elements which testify that Kerbeleg was a 15th century manor, you can consult the book on Kerbeleg written by Jean-Paul Piriou. It is available in all our rooms. Kerbeleg is therefore a Manor House attested in the 15th century, partly destroyed in the 16th century, rebuilt as an agricultural farm in the 17th century. It became a family home in the 20th century, and was converted into a guest house in the 21st century by the same family!
Six siècles d'histoire imprègnent ces murs, venez les découvrir…
---
HISTORY OF THE XV CENTURY FARMHOUSE
BY JEAN-PAUL PIRIOU
KERBELEG – the book
You will find in your room for free consultation the book by Jean-Paul Piriou on the history of Kerbeleg through the centuries.
(extract)
… "THE MANORS
From the Middle Ages onwards, Brittany was covered with noble houses, the manors. Less fortified than castles, these solid buildings were also the centre of agricultural estates of varying sizes. Even today, the manor house remains one of the most representative elements of Breton architecture.
The tradition of medium-sized aristocratic dwellings with an agricultural vocation goes back to antiquity. During the Gallic period, small fortresses were built throughout the Armorican peninsula, such as those of Laniscat (22) or Inguiniel (56). Later, after the Roman conquest, part of the Gallo-Roman aristocracy owned vast agricultural estates that included residential parts (occasionally occupied by owners also living in the new Roman towns) and agricultural parts that provided significant income. In the early Middle Ages, the small Breton nobles seem to occupy more or less fortified estates, also with a pronounced agricultural vocation…"
---
---