We have renamed it "La Maison à Pain". A simpler, more authentic summary of its past functions.
While isolated ovens or 'slope ovens' were built away from the farm or 'communal' ovens in the centre of villages for shared use, the 'oven houses' were more often for the use of a single house or group of houses belonging to the same owner.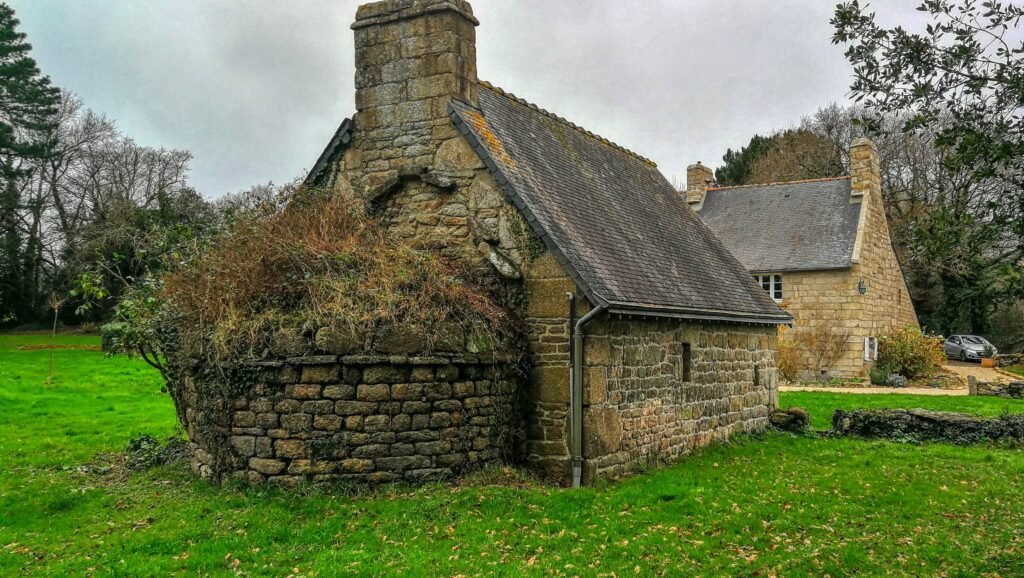 Ti Forn
This 'ti forn' or 'oven house' had a completely different function than accommodating travellers in search of romance or nature. It was a working place where bread was baked. On the first floor, on imposing oak beams that are still visible, cereals and tools were stored.
In the previous lives of our beautiful longère de Kerbeleg, this little house smelled of the countryside and the pine of the small wood in front of it gave off the sweet scent of toast.
A stable
From its history we have been able to gather little information, but we met a former occupant of Kerbeleg who, as a child, had known the Maison à Pain as a stable. Two plough horses were kept there. The doors, known as Fermières, are the last mark of this.
We wanted to go back further in its 'baking' vocation in the choice of the theme of the renovation. We are renovating the dome of the hearth (oven) using old techniques and some decorative elements will remind us of this exceptional traditional trade that we want to celebrate.
The taste of the Breton breads of the time probably did not correspond to the delicate palates of our guests, so we preferred to develop our own recipe:
The "Bee & Cicada" bread
It is not a fable by Jean de La Fontaine, but it is an invitation to travel to France. The sweetness of our neighbour's honey mixed with the aromas of the herbs of Provence in generous quantities. An astonishing and delicious combination that our visitors love.
Your breakfast bread will therefore not be made of dark wheat (grey buckwheat flour) but of traditional wheat in a unique recipe.
As for the 'bread oven', you can admire it once it has been renovated. The granite dome is intact and visible from inside the house to those who move in.
---
---