Here are some direct links to guide you to some beautiful places to discover around Kerbeleg, in the direction of Concarneau, but by the side roads:
---
Pont-Aven
A riverside walk and once a place of inspiration for painters, this timeless site reveals a magnificent, peaceful and poetic path. Leave your car at the port to visit the Pont-Aven Museum but above all to stroll along the art galleries and along the river Aven on the "promenade du bois d'amour".
---
Chapel of Trémalo
Go back up the hill by car or on foot along the path to discover its unusual architecture, vaulted ceiling in 'inverted hull', with sculpted beams as well as the mini exhibition of reproductions "Gauguin or the wounded ferryman". It is open to the public every day from 10am to 5pm from October to June and from 10am to 6pm from July to September.
---
Le Hénan tidal mill
Discover the renovated mechanisms of this exceptional 15th century mill powered by the ebb and flow of the tides up the Aven. This historic monument is built of ashlar and its four-sided roof indicates an old thatched one.
---
Rocks and bread oven of Kermeun
They are on private property, so park and keep a low profile so as not to disturb the residents. This is not a real tourist spot but a real geological curiosity. The oven, which dates from the 15th century, reveals itself as a treasure hidden in the middle of enormous granite chaos.
---
The "Belle Epoque" wooden cabins on the beach at Port Manec'h
The beach of Saint-Nicolas in Port Manec'h is mainly visited by regulars. There are still a number of restored bathing cabins dating from the early 20th century, which have been handed down from generation to generation. This popular family seaside resort has attracted celebrities such as Arlety and Jean Gabin.
---
The thatched cottages of Kerascoet
Charming little village not to be missed, see some of the thatched cottages whose walls (lean-to) are built from a single block of vertical "standing stones". A real journey back in time to discover these granite cottages and thatched roofs.
---
Pointe de Trévignon
Follow the coast westwards to the small port and the (neo-classical) castle of Trévignon to see the Glénans archipelago. If you feel like it, this is the ideal starting point for a 6km walk along the dunes where you will come across ponds and bird sanctuaries of all species.
---
Glénans Archipelago from the sky
It is of course much more impressive to see on the spot by boat or from the sky with its turquoise blue bottom, this archipelago of 7 islands hides an inland sea with crystal clear waters and white sandy beaches, a heavenly landscape.
---
Concarneau, la ville close
The Ville Close of Concarneau is a fortified citadel located in the town of Concarneau. Built in the 13th century, it is surrounded by imposing ramparts and is accessible by a bridge. Discover its narrow streets, picturesque stone houses, craft shops and restaurants. It is a place steeped in history, with monuments such as the Governor's Tower and the Chapel of the Trinity. Wander through the charming streets, admire the panoramic views of the ocean and discover the medieval atmosphere of this unique place.
---
Quimper
Known for its rich historical and cultural heritage, Quimper is famous for its Gothic cathedral of Saint-Corentin, its picturesque timber-framed houses and its medieval quarter. Explore the Musée de la Faïence, which showcases the art of local pottery, and the lively streets of the town centre with its shops, cafés and restaurants. Quimper is also renowned for its annual Cornouaille festival, showcasing Breton music, dance and culture. Surrounded by green landscapes and waterways, Quimper also offers peaceful walks along the river Odet. It is a must-see destination for lovers of Breton history, art and tradition.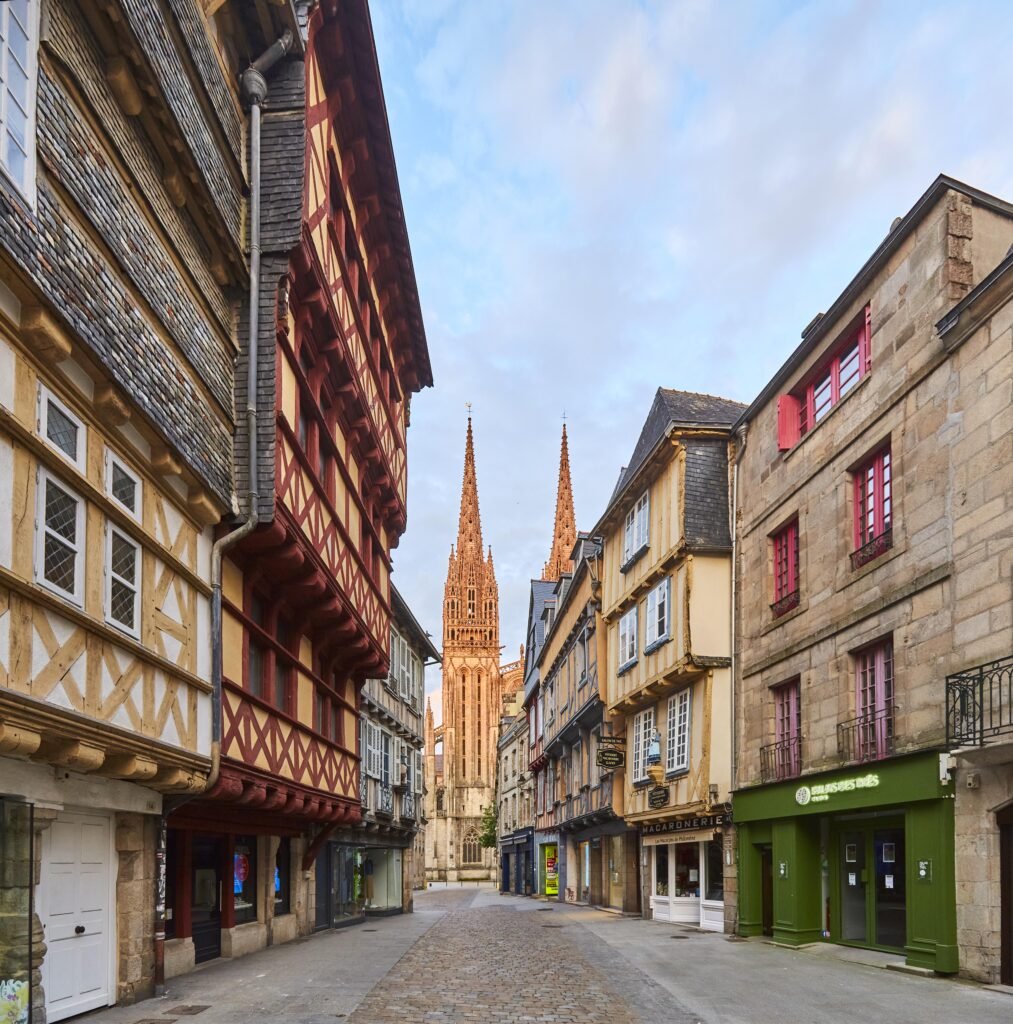 ---
Locronan
Classified as one of the "Most Beautiful Villages in France", Locronan is renowned for its well-preserved architecture dating from the 16th and 17th centuries. The cobbled streets and granite houses offer a unique medieval atmosphere. Visitors can admire the Gothic church of Saint-Ronan, which dominates the central square, as well as the many stalls of craftsmen specialising in pottery, cutlery and embroidery. The surrounding countryside offers opportunities for walking and hiking, with the Toulfoën forest nearby. Locronan is also known for its annual medieval festival, which takes visitors back in time with historical re-enactments and traditional performances. It is a true Breton gem not to be missed.
---
The Valley of the Saints
This Breton collective project was created in July 2008 by Philippe Abjean, Sébastien Minguy and Philippe Hajas. Located in Carnoët, Brittany, it aims to safeguard, discover and promote Breton popular culture linked to the Breton saints through monumental sculptures in granite. The association's objective is to implant 1000 of these sculptures, thus creating a real "Breton Easter Island". The site of La Vallée des Saints is exceptional, with a feudal mound, a chapel classified as a historical monument and a panoramic view of the Poher. The project has been supported by a network of patrons, enabling its development and tourist appeal. Every year, sculpture work camps are organised, and visitors can contribute financially to the adventure.
---
Enjoy your discovery of our beautiful corner of Bretagne…
See you soon,
Véréna & Fabien
---
---